Why Ancestral Origins Testing?
A DNA sample is enough for us to determine your DNA genealogy. The genetic markers left on your DNA by your ancient relatives makes it possible for us today to trace your origins. Establishing your biogenetic roots requires your DNA profile to be compared against hundreds of different global populations and fourteen anthropological regions to scientifically determine your ancestors' ethnic origins and genetically link them to you.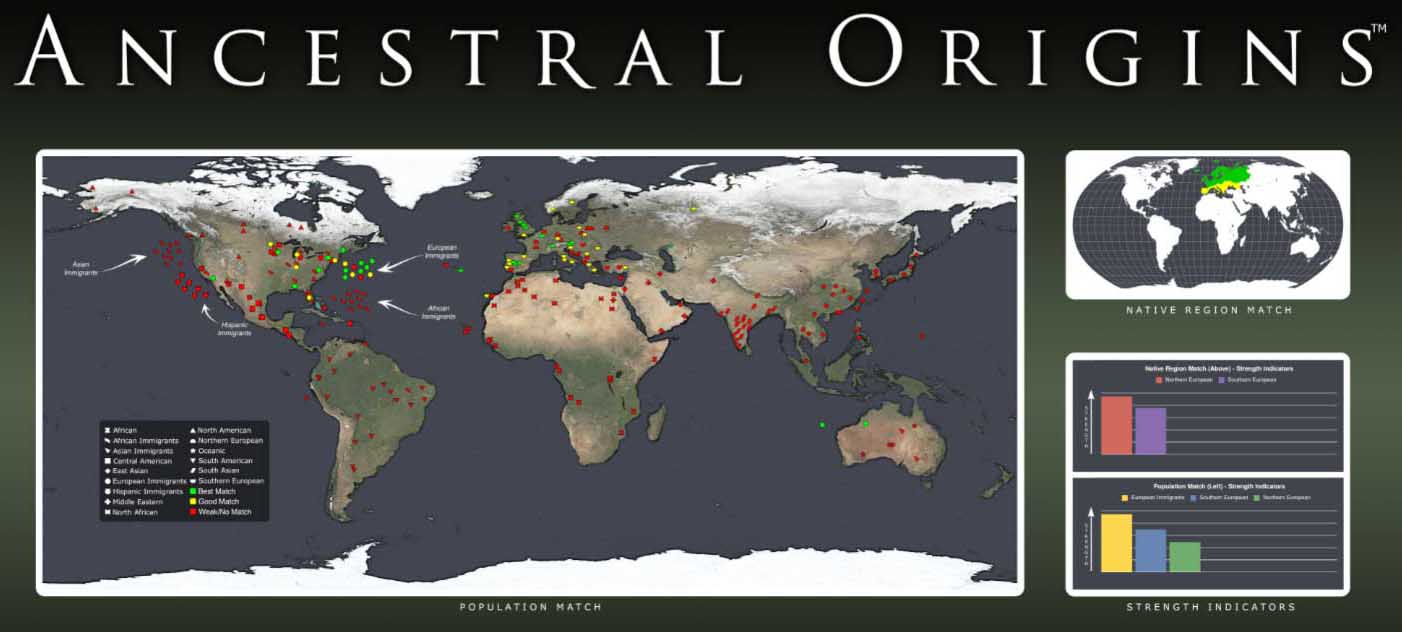 Anthropologists have established that we all related to one common ancestor who originated in Africa many millennia ago but eventually moved and populated various geographical areas all over the world. Over millennia, these settlers created genetically distinct populations. Over time our ancestors migrated out of Africa and populated areas all over the world, settling and colonizing different geographical regions. By analyzing the similarity in DNA between you and your ancestors, working closely with the genetic date in our database, we can establish who your ancestors where and what part of the globe they originated from via analysis of your autosomal DNA (focus here is on your geographic ancestry).
What do your Ancestral Origins Results reveal?
Ancestry DNA testing will show you everything ranging from the migration routes of your ancestors, where they settled and provide you with invaluable information for yourself and your descendants. With just one DNA sample we are able to match your DNA profile against others in the database pool and plot this information onto a world map.
Population Matches – Your DNA is measured against other populations within our database and markers determine the strength of your profile against each population and anthropological region. Three colors are presented to demonstrate the match: Green being the strongest, yellow a good match and red representing a weak match.
Native Region Matches– This specifically refers to anthropological regions you have the strongest links to. The same colours are used to represent the match.
Strength Indicators– This is divided into two strength indicators, the first being a graph that focuses on the cumulative strength of the regions that have the strongest markers on your map and makes a comparison between each region. The second strength indicator focuses on the smaller native region matches (found on the smaller map).
Your Ancestral Origins map is printed on high quality glossy photographic paper using a five-dye printing method. Whether you want to display it at home or at work, you have two sizes to choose from: standard order size 17 x 10.6 inch or if you really want to impress you can opt for the large 27.25 x 17 inch print. Each one comes with a customized "Exclusively prepared for" following your name printed on it. Results along with your own personalised, high resolution map will be ready and available to you in 2-3 weeks, at the starting cost of only $395 .
Bring your ancestry alive and order today to receive your accredited Ancestral Origins™ DNA Ancestry Test.
Click here to view a sample Ancestral Origins™ DNA Ancestry Report
Delve even deeper: upgrade your ancestral origins test
Upgrading your ancestral origins test means you can have some extra information about your ancestral roots, adding to the existing wealth of knowledge you will discover with our standard ancestry test. Opt for this option and find out more about your origins.
Results will include:
A pie chart with a breakdown of your genetic origins
An explanation of genetic origins
The test upgrade is available for just an extra $50. View the ancestral upgrade option by clicking below.

Professional Consultation
We offer a professional telephone interpretation once you receive your Ancestral Origins DNA Ancestry map and report. Consultation sessions are up to 15 minutes in length and are provided by telephone only. If ordered at the same time as submitting your samples for testing, the advanced purchase price per consultation session is $75. This service can be purchased after you receive your map. Consultation sessions may not be recorded or reproduced without the expressed written consent of Genetic Technologies Limited.