Our PetGen Canine Test – Comprehensive Affordable & Exclusive
Our PetGen Canine all in one test. It is a comprehensive, affordable, and unique tool for both Breeders and Dog Parents in creating a better and happier life plan for your pet.
The results provide information about your dog's breed both mixed or pure bred, a beautifully presented breed certificate personalised with your dog's photo and name, breed history – which relays important temperament and environment information, predicted size and life expectancy, detailed genetic diseases screening for both hereditary and mutations, single – gene disease detection, rare genetic disease detection as well as a carrier report, hair/coat trait, behaviour trait and score. This is an exclusive test available only via easyDNA.
What do we test for?
This is the most extensive canine test on the market, covering and providing information about:
Breeds + Personalized Breed Certificate.
Breed Identification Breakdown percentage + Breed history.
Predicted Size and Life Expectancy.
Genetic Diseases.
Hair/Coat Trait.
Behaviour Trait + score.
Single-gene genetic disease detection.
Complex disease detection.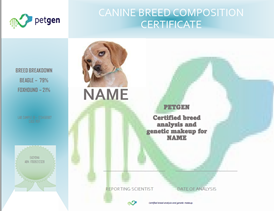 What is included?
25 Page easy to read report
Personalised Breed certificate
Click image to view sample Breed Certificate
Look at the test results
Results for this test will be sent by email around 4-6 weeks from receipt of samples at the laboratory. Why don't you look at a sample report of this canine test?
Collecting samples for this test
You can collect mouth swab samples from your pet for this test using our specific testing kit. We will send out the kit once we have processed your order and you can collect the swab samples quickly and painlessly from your dog following the instructions in the kit. Please email us a photo of your pet when you return the samples for testing for your personalised breed certificate.