There's no nice way to say it, bowel cancer is a killer. It claims the lives of more than 4000 Australians each year, and so far in 2018, it is estimated that more than 7000 women and more than 9000 men have been diagnosed with this devastating disease.
Bowel cancer is not just an 'old person' disease and does not discriminate between sexes or ages.
Being in tune with any changes in our bodies, inside and out, is important for our overall health, and our gut is no exception.
Any changes that persist for more than two weeks should result in a visit to the GP, and if you have a genetic history of polyps or bowel cancer, peace of mind can be achieved.
In Australia, more than 25% of people diagnosed with bowel cancer have a family history of the disease, so knowing your medical predisposition is a great tool to start with.
GTL can assist, with a range of genetic tests that will reveal your susceptibility to bowel cancer, as well as a range of other inherited diseases.
The Targeted Sequencing Panel 22 test analyses 22 genes associated with bowel cancer and a number of other cancers. DNA from either a blood sample or a biopsy is analyzed. Analysis of gene mutations in cancer is important to clinical decision-making and can serve as a tool when deciding on suitable treatment options and drug targets.
The Personal Genome Analysis is a simple screening test involves a painless saliva sample, and using Next Generation Sequencing Technology, assesses over 130 genetic variations in more than 110 different genes.
The Next Generation Sequencing approach can help identify rare or novel variants as well as those occurring at low frequency within a DNA sample. When matched with germline DNA, it can also verify the nature of a tumor across a large number of samples.
GTL's genetic tests provide clients with peace of mind and combined with a healthy overall diet, and regular bowel screenings will set you up for a long and healthy life.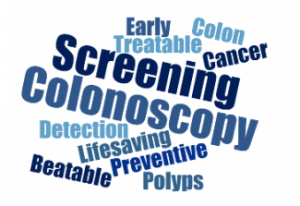 With bowel cancer statistics so high, it's likely that you will know someone affected by this terrible disease. This month, there's a great opportunity to do your bit to raise awareness and fund vital research to help eradicate bowel cancer.
It's December, time to wind down after a big year. For lots of us, the holidays mean relaxing the standards a little. No more stuffy shirts and ties, farewell to enclosed shoes and hello to thongs, and for the men who really like to get into holiday mode, maybe a week or two off shaving!
Men who love to get a bit hairy this December can do so for a great cause, Decembeard!
For six years, Australians have been participating in this furry fundraiser, which encourages men to grow a beard in the final month of the year to raise awareness and much-needed funds one of the most commonly diagnosed diseases in Australia, bowel cancer. Decembeard is not just for men, the less hirsute of us are also encouraged to embrace their inner hipster, by making a glorious beard to wear, and advocating that others join in or contribute to a fundraising event.
You can sign up or doate at the Decembeard website.
GTL is a proud supporter of the Decembeard initiative, and encourages everyone to take charge of their gut health by booking a world class genetic test, donating money, or participating in this 'chinspirational' event. Wishing you a very hairy Christmas from GTL!